The Home that Love Built – Havencrest Castle – Savanna, Illinois
Have you ever wanted to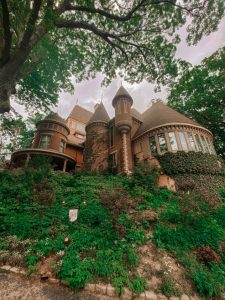 explore a magical castle?
Originally built in 1872 and known as the Greenleaf Mansion, Mr. and Mrs. Alan St. George took ownership of the mansion in 1976. They began building their lifelong vision of turning this home into an 'American Aristocracy'.
Havencrest Castle is truly one of the most spectacular tourist attractions we have in Carroll County. For 31 years Alan and Adrienne shared their life together, during that time they shared goals of building a castle and spent time designing every major and minor detail of the home. Each room has a different theme to take us to a different part of history and you sure feel like you are truly there in every corner of the castle.
Beginning in 2019 Havencrest Castle opened up to the public with tours being held on May and October weekends only. Experience the magic within the walls of this 27-room castle. Each room holds a different theme of romance and history.
Adrienne passed away on June 1, 2006. Alan used to say, "When Adrianne entered a room, the lights and music went on, and when she left, the lights and music went out." After a five-year period of mourning and healing, Alan's creative inspiration returned. He completed the last of the 25 life-sized figures for the ballroom, and then made a 180˚ turn to contemporary art, producing 21 tabletop bronze and aluminum sculptures.
Just outside the gates to the Castle, on the brow of the hill, sits a modest white clapboard house called "Hillside." This was the first homestead built on Greenleaf Hill and is now our Visitors Center. It was built in 1872 by Simon Greenleaf and wife Frances Jane. In 1875 Simon established the Savanna Times, a weekly newspaper. In 1885, Simon Greenleaf and son, Francis, established the Savanna Journal.  By the end of the year, Francis S. Greenleaf became the full owner and editor of the weekly still published today, and known as the Savanna Times Journal.
The castle now offers a Royal Package for private parties, weddings, vow renewals, birthdays etc. More information here –WEDDINGS + | havencrestcastle
Tour Havencrest Castle on May and October weekends only – Visit their website for more details – Havencrest Castle|Savanna, IL