Does the end of summer have you craving everything autumn? Here is a list of things to do in Carroll County during the fall. 
Seeking a thrill?  Visit our one and only haunted house
Ready for a night of thrill? Ravins Grin Inn is the place to visit. This 1 1/2-hour tour explores you through the endless labyrinth of rooms, tunnels, stairways, and slides, with lots of fun and scary gadgets along the way. Open by reservation only.
Fall Festival & Brewfest
Bring your family out to Timberlake playhouse located right outside of Mt.Carroll. With activities for adults and children this is the perfect way to spend your day while visiting. Facepainting, barrel and hayrides, pumpkin carving for the kids. Adults will get to enjoy sipping craft brews from 8 different local breweries coming together for this event.
FALL FESTIVAL & Brewfest | Mt. Carroll (illinoistrailofterror.com)
"Rocky Horror Picture Show" viewing
Timber Lake Playhouse presents a one-night-only interactive viewing of the classic 1975 film "Rocky Horror Picture Show." Costumed actors will lead movie-goers in RHPS Call-backs, Costume, and Dance Contests. Interactive Prop Bags are available for pre-purchase. Snacks, drinks, and light-up novelties will be available for sale at the venue.
MOVIE | Rocky Horror Picture Show | Mt. Carroll (illinoistrailofterror.com)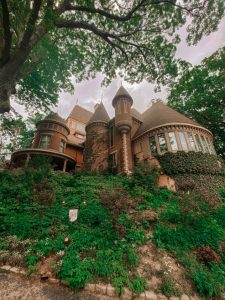 Havencrest Castle
Originally built in 1872 and known as the Greenleaf Mansion, Mr. and Mrs. Alan St. George took ownership of the mansion in 1976. They began building their lifelong vision of turning this home into an 'American Aristocracy'.  Beginning in 2019 Havencrest Castle opened up to the public with tours being held on May and October weekends only. Experience the magic within the walls of this 27-room castle. Each room holds a different theme of romance and history. Coming this October, a never-before-seen room will now be a part of the grand tour!
Mississippi Palisades State Park
The Mississippi Palisades State Park sits alongside The Great River Road right in the heart of the driftless region. Trailing The Mighty Mississippi River; a 2500-acre area, untouched by the glaciers, offers hiking trails, outlook points, rock climbing, camping, and much more. Savanna is the perfect destination for travelers looking for an outdoor paradise.
Explore The Mighty Mississippi River
Experience The Mississippi River like never before by surfing through the backwater channels and lakes with cSavanna Adventure rentals and Spring Lake Campground.
cSavanna Adventures gives an exploration like no one else. Offering canoe and kayak rentals on and off The Mississippi River. cSavanna – Do More!! 
Spring Lake Camping has canoe rentals available for you and your family in a calm scenic backwater lake.
Spring Lake Campground – "Welcome To The Sanctuary" (campspringlake.com)
Take a walk-through history
Take a walk down the historic brick streets of Mt.Carroll. Mount Carroll began life as a mill town around 1841. The town was incorporated in 1855 and became a city in 1867. Mt.Carroll is the perfect place for walking, biking antiquing, dining and everything you want a small town to be. Leaving the brick streets to their original character.
Gear up for hunting season
The Mississippi River and its tributaries form one of the greatest river systems in the world. Hunters know it as the Missisippi flyaway, because of the natural attraction for waterfowl, ducks, coots, geese, upland game birds such as pheasant and quail it is the perfect area in the Midwest for hunting.
Carroll County's traditional hunting season for deer and turkey is right around the corner. Public hunting is offered through a lottery system at The Mississippi Palisades State Park. Hunting (illinois.gov)
     Rack and Wing in Lanark offers private hunting for upland game, deer and turkey. Rack and Wing
Book a cozy stay-in
Relax at one of our many lodging options. Whether you are looking for a downtown retreat – country setting – cabin life – hotel/motel experience – or camping we have you covered.
Lodging | Visit Carroll County Il